Finest Landscaping Company Serving Sweetwater, FL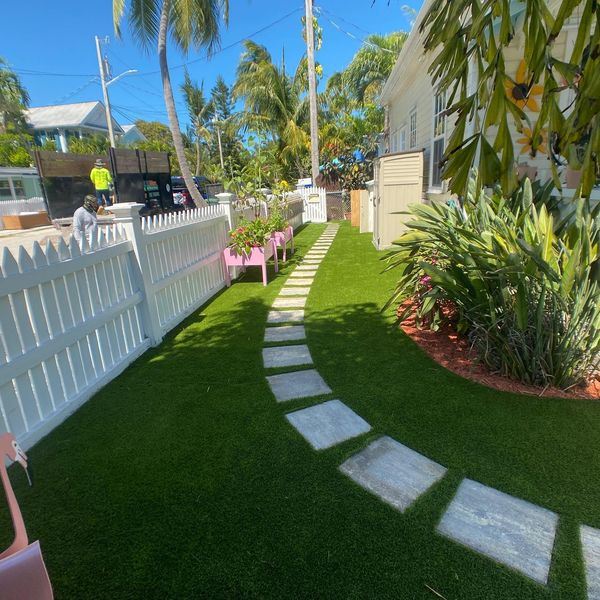 When it comes to high-quality landscaping services here in the Sweetwater area, savvy homeowners understand that Big Green Men Landscaping & Artificial Grass is the name you can always trust for the very best in quality results. As the premier landscaping company serving the Sweetwater area, our team of skilled professionals can provide you with the comprehensive services you need to maintain the beauty of your home's landscape season after season. Are you looking for a professional Sweetwater landscaping company who can help with your landscaping and hardscaping needs? If so, give our team of skilled professionals a call today and let us show you the kind of quality results that have helped make us the most trusted name in landscaping the area has to offer.
As the most reliable landscaping pros the Sweetwater area has to offer, our team of skilled professionals are standing by and ready to assist you with any and all of your landscaping needs, no matter how big or small. Whether you're in need of artificial grass installation, tree trimming, roof cleaning, or even some help with driveway washing, our team of skilled professionals are ready to help you get the job done. If you have any questions about our full line of high-quality landscaping services, or if you would like to schedule an appointment for a consultation, give us a call today. Our team of experts is always standing by and would be happy to assist you in any way we can.
Excellent Tree Trimming Services For Sweetwater Homes & Businesses
When you want the trees on your residential or commercial property to stay healthy and live longer, it's smart to hire a landscaping company like ours for tree trimming services. Lots of property owners think their trees can be left alone for years without maintenance and all will be well, but the reality is that untrimmed trees can create unsafe circumstances as well as unhealthy overgrowth. When it comes to tree trimming, let the pros take on your project. Trying DIY tree trimming can lead to personal injury and damaged trees. Big Green Men Landscaping & Artificial Grass has the skill and experience, plus the industry-level tools, to get rid of dead, dying, or excess branches and greenery on your trees to ensure they stay looking beautiful. Tree trimming will also eliminate any threat of falling branches, making your property a safer place for people to spend time.
Sweetwater's Top Source For Artificial Grass Services
Artificial grass is Sweetwater's solution to the problem many homeowners around here have-- wanting a beautiful front yard without having to keep up with the maintenance that comes along with it. Artificial grass from Big Green Men Landscaping & Artificial Grass can give your home or business that vibrant green lawn with as little maintenance as possible. Whether you want it installed on your entire front lawn or you want a smaller putting green out back for the golfer in your life, we promise to provide you with the best products and highest quality service Sweetwater has to offer.
Reviews and Testimonials for Big Green Men Landscaping & Artificial Grass Corp in Sweetwater
Call Us Today For Your Free Estimate