Miami's Driveway Washing Professionals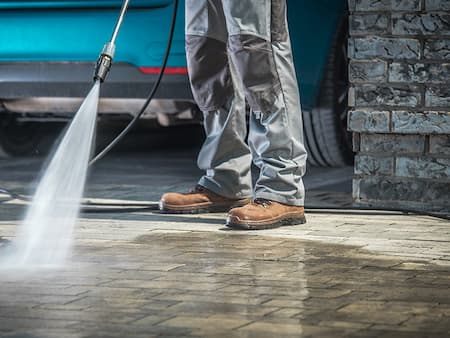 Routine driveway washing is an important and effective part of maintaining your Miami home's beauty and value. After all, your driveway is sure to become blemished by numerous unsightly stains and spills over the course of time. While you can't do much to prevent these stains, you can have them quickly and thoroughly removed with professional driveway washing. Our services can eliminate even the toughest stains, such as:
Oil stains
Algae and mold
Rust
Hard water stains
Bird droppings
Paint
Call up the professionals at Big Green Men Landscaping & Artificial Grass Corp today to schedule an appointment for your next driveway washing. We proudly provide reliable pressure washing for Miami that will ensure your property will look its very best at all times. We're also happy to provide free estimates for all the work we do, so give us a call today to get a quote for your next driveway washing.
Concrete Pad Cleaning Can Revitalize Your Driveway
If you're looking to keep your driveway in the best shape possible, then be sure to give Big Green Men Landscaping & Artificial Grass Corp a call today. Pressure washing experts suggest investing in driveway washing at least once a year to keep your driveway well-maintained. Of course, once a year may not be enough. When you're considering whether to clean your driveway more frequently, it's important to consider what sort of contaminants have made their way onto your driveway and how long they have been there.
Your driveway is exposed to the elements year-round. Because of this, dirt, grime, and stains build up, no matter how careful you are in taking care of the concrete. Whether those stains come from automotive contaminants, rust, or leaf debris, it's important to ensure they are cleaned away in a timely manner. The best way to take care of your driveway is to make sure it is as clean as possible for as long as possible! It's a good idea to invest in a driveway washing as soon as you see your driveway suffering from stains and grime. Automotive stains especially are caustic to your driveway and can cause cracking and breakage. By investing in driveway washing, you can save yourself hundreds of dollars in repairs. Call Big Green Men Landscaping & Artificial Grass Corp today to learn more about how our professionals can help rid you of stains and protect your driveway from further damage.
Expert Driveway Washing & More In Miami
When it comes to any exterior cleaning service you need, from house washing to driveway washing, having a professional pressure washing company to rely on is the key to a clean home. That's why at Big Green Men Landscaping & Artificial Grass Corp, we are committed to being that team you can count on for the best in exterior cleaning. We don't cut corners or skip steps-- our work is efficient and effective with every job we perform. If you're interested in driveway washing or any of our other services, contact our landscaping company for Miami today and get a free quote for your next service!
Call Us Today For Your Free Estimate