House Washing To Freshen Up Your Miami Home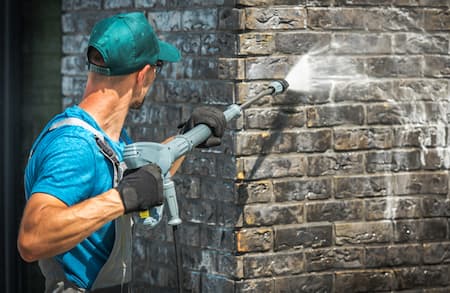 House washing is one of the best exterior cleaning investments you could possibly make for your home in Miami. This low-cost service will keep your home looking every bit as good as new while also providing some great practical benefits, which we'll touch on below. These benefits all come about as this service effectively removes many unsightly and harmful stains from the exterior portion of your home:
Algae
Mold
Mildew
Bird droppings
Discoloration
Flaking paint
And more
When you're ready to invest in house washing, look to none other than the experts at pressure washing for Miami-- Big Green Men Landscaping & Artificial Grass Corp. While we are the top-rated landscaping company for Miami, we are also pressure and soft washing masters. We are happy to turn down the pressure on our machines and utilize soft washing to provide a gentle yet thorough clean for your home's siding. If you would like to schedule an appointment with us today, just give us a call. We'll be happy to answer any questions you may have and provide a free estimate!
Residential Surface Cleaning
House washing provides some truly compelling benefits that make it one of the best investments you can make for your home. After all, letting all manners of stains and blemishes develop on your home will reduce its value and even render it an unsafe place for you and your loved ones to live. With routine house washing, however, you can keep your home looking its best while enjoying these great advantages:
Greater curb appeal
Maintained property value
Health and safety benefits
Longer service life for your home's exterior installations
No matter how long you've owned your home or how old it is, the pressure washing crew at Big Green Men Landscaping & Artificial Grass Corp can restore its exteriors and make it look as good as the day you bought it! The organic growths and pesky stains that have developed over the years will be washed away to reveal your home's true beauty and make it the talk of the neighborhood. Just give us a call when you're ready to revitalize your home with help from our Miami team.
Miami's Dependable Pressure Washing Team
From soft wash roof cleaning to other services like concrete cleaning, the pressure washing specialists at Big Green Men Landscaping & Artificial Grass Corp can do it all to keep your property looking its very best from top to bottom. Don't settle for second best when it comes to your pressure washing needs! Instead, look to us, and you'll enjoy the best and most beautiful results money can buy here in Miami. Check out our latest projects gallery to see examples of our quality work or give us a call to see it yourself!
Call Us Today For Your Free Estimate